#DFCConnect
Connecting Children to listen, share and get inspired
CoVid-19 situation has us feeling anxious and uncertain
As countries are locking down, the world seems to be closing for our children. 
Let's open it up through conversations and human connections. 
Let children have the chance to express their views, cultivate their creativity and share their optimism with each other and the world.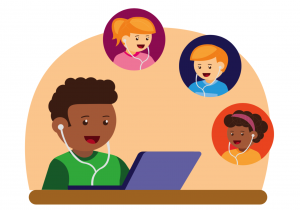 WHAT 
#DFCConnect is about giving children and teens the chance:
– to recognise and express their thoughts and feelings
– to meet children from other parts of the world 
– to explore and imagine creative possibilities together
– to share messages of positivity and optimism
– and to make a connection within their country and with children from other countries! 
HOW
Use the Design for Change FIDS (FEEL-IMAGINE-DO-SHARE) design thinking framework to create your own meaningful conversations and connections.

FACILITATED SESSIONS
2 FREE sessions each week in May, June and July
Register your child for the sessions TODAY!
The sessions are FREE to attend for first 100 participants in Singapore.  Children engage with other children from Singapore and other countries in meaningful conversations.  
Sessions are facilitated by experienced facilitators and represent DFC country partner/s.    A structured conversation flow has been designed that takes the children from recognising their 'feelings' to 'imagining' possibilities and 'sharing' views in the situation.  
We seek parental / guardian permission for every child attending our facilitated sessions.   For more information write to us at admin@dfcsingapore.com
Please register below.  Choose Singapore Registration form if you live in Singapore, otherwise please fill the 'Other Countries' form.    
OTHER WAYS TO PARTICIPATE
FOR SINGAPORE SCHOOLS
– Student groups can connect to multiple countries for meaningful conversations on the current situation or topics on other global issues. Our network of DFC Partners in 70+ countries gives us access to many schools around the world.
For Singapore Schools, please contact Jasmine for details at

admin@dfcsingapore.com.
For all other countries, your queries may be directed to DFC Partner in your respective country.
FOR PARENTS
Parents may run simple conversations with children, and engage with their peers and friends. Follow the simple 4-step design thinking framework Feel-Imagine-Do-Share (FIDS) given below. Get the children to share their messages online to inspire others around the world. Don't forget to use #DFCConnect
JUNE Update: More than 80 children between the age of 8-15 years have been through the DFCConnect sessions. With 10% feeling positive before the session, after the session about 70% felt more optimistic about the current situation. 
FEEL

Connect with friends or family, or join a #DFCConnect school session and share how you are feeling about the situation. Ask each other how this situation makes everyone feel.

IMAGINE

Connect together to talk about what you have been doing and what you have seen others do. Come up with creative ideas to improve the situation. Think of as many as you can!

DO

Discuss with each other about any thing you can do NOW to make things better and more fun. How can you help other people and how could you help each other? Make a 'quick sketch'of your ideas.

SHARE

Share your positive ideas and messages to inspire others around the world. It can be in any form; drawings, a song, a video. Don't forget to use #DFCConnect hashtag when sharing!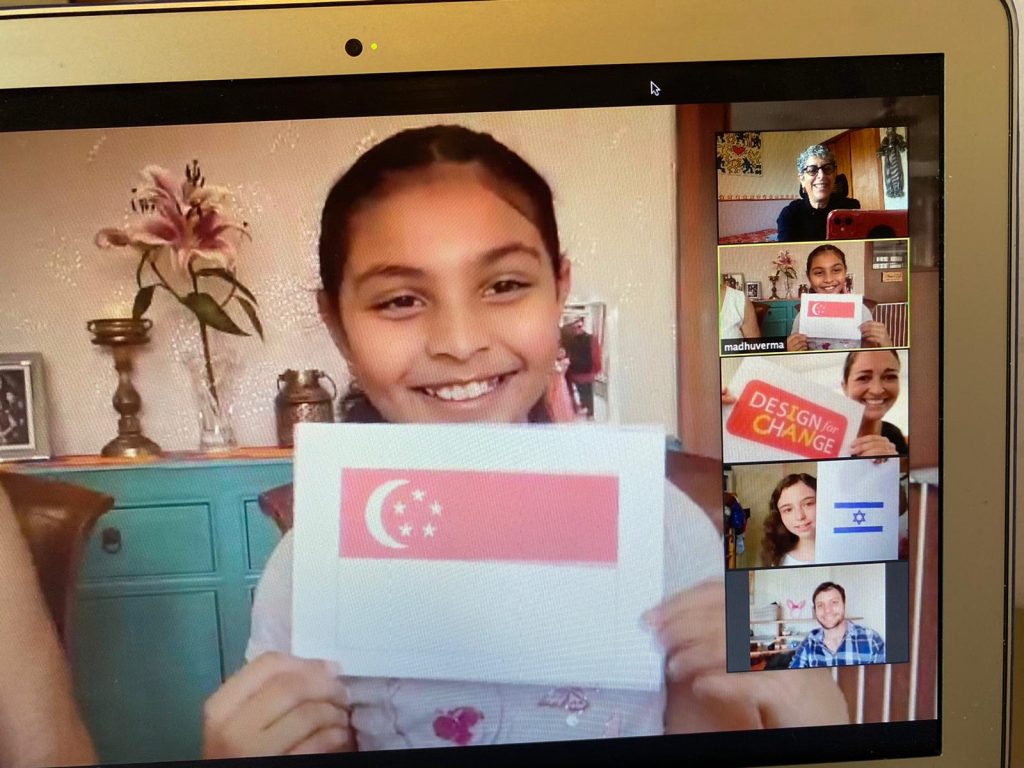 During the COVID-19 situation, Piya from Singapore and Noga from Israel met through a facilitated #DFCConnect session. They shared what's going on in their countries, what they are feeling and  and how they are coping with the changes in their lives.  
'Adults should talk to us more on the situation.'
'In this period of time when we are at home most of the time… I do the things which I never got time to do otherwise… I made a big painting.'
While Noga played the saxophone for the group; Piya introduced Bruno, her friendly dog, to everyone.  Both Piya and Noga went from feeling 'anxious and a bit frightened' to feeling grateful and sharing their hope that the virus will be BLOWN away soon.   
#DFCConnect Session on 8th April
It was exciting and very meaningful session with 8 children from 6 countries; Malaysia, Vietnam, Philippines, Indonesia, Israel and Singapore. 
Children supported each other by conducting mindfulness session; sharing 'Wacko Corona' online game created by Henry from Vietnam; playing musical instruments; the session eventually was led by children themselves.  
The session ended with lots of gratitude, and optimism messages for each other.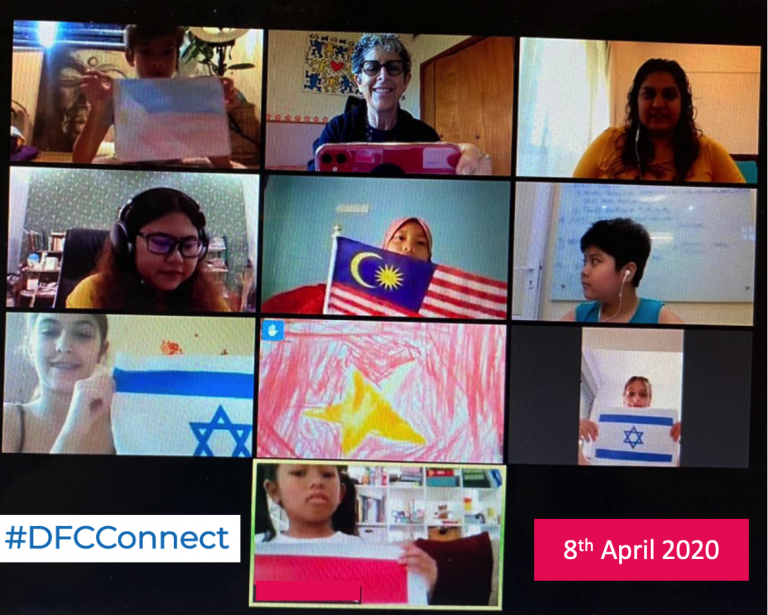 #DFCConnect in Singapore is supported by Our Singapore Fund
We are looking for corporate sponsors and technology partner to scale up the project globally to meaningfully connect children from around the world.   You can reach out to Madhu at madhu@dfcsingapore.com